Since founding in 1910 the company that would become Hallmark Cards, J.C. Hall had consistently strived to associate its products with the highest quality fine art. After the successful launch of the Hallmark Gallery Artists line of holiday cards in 1948, which featured historic works from da Vinci to van Gogh, J.C. envisioned a competition to inspire new art on the Christmas theme.
The following spring artists from the United States and France were invited to submit paintings for the first ever Hallmark Art Award. Such a corporate sponsored competition, open to any trained artist, was unprecedented at the time. As a result, more than 10,000 artists responded to the call.
The competition was directed by Wildenstein Gallery in New York, which exhibited Picasso and other modern masters. To judge the entries, an international committee was convened of distinguished curators, critics, and artists, including the painter Yasuo Kuniyoshi and filmmaker Jean Cocteau. After much deliberation they awarded cash prizes to twenty artists, dividing the Grand International Prize of $3,500 between French artist Eduoard Goerg and American Fred Conway. Among the other notable finalists were Antoni Clave, Oscar Domiguez, Philip Evergood, Philip Guston, and Joseph Hirsch.
An exhibition of 100 selected paintings of the 1949 Hallmark Art Award traveled to museums throughout the U.S. and France, with proceeds benefiting the Red Cross. While some works later appeared on Hallmark cards, JC's intentions for the competition were broader, representing the company's "greatest opportunity to build prestige."
The success of this competition spawned four more International Hallmark Art Awards over the next decade, which were shown throughout the U.S. and Europe. From these competitions Hallmark purchased works by Edward Hopper, Andrew Wyeth, and other prominent artists, becoming one of the first corporations to develop a collection of modern art.
The Debate over Modern Art
In the years following World War II the United States became a center for modern art, a subject that stirred much public debate at the time. The term "modern" was applied to a variety of styles that overtly challenged academic tradition, ranging from abstraction to social realism. In the summer of 1949, as the Hallmark Art Award was gaining international press, the competition became a political flash point due to its promotion of vanguard art.
In France, Communists protested the corporate-sponsored event as a U.S. scheme to export capitalism abroad. Back at home, many involved with the project were accused of having socialist sympathies. In a speech entitled "Modern Art Shackled to Communism," Congressman George Dondero of Michigan publicly condemned a number of the winning artists, including Phillip Evergood, Joseph Hirsch, and Anton Refregier. One of the judges of the award was the noted Japanese-American painter Yasuo Kuniyoshi (pictured on side bar), who was then president of Artist's Equity. He drew particular criticism for being "presumably a Buddhist and most certainly a Red fronter," unfit to judge art for Christmas cards.
In spite of the furor, Evergood, Hirsch and several others on Dondero's "Roll of Infamy" were awarded prizes in the 1949 Hallmark Art Award. Two years later Anton Refregier, a continuing subject of political scrutiny due to his socialist affiliations, was awarded the Grand International Prize in the Second Hallmark Art Award.
The Art of Conservation
Preserving the legacy of the Hallmark Art Awards requires ongoing care, ranging from preventive maintenance to extensive restoration. All of the materials used in making a sculpture, drawing, or painting are subject to distortion or deterioration over time. These effects are due to a wide array of causes, ranging from minor fluctuations in humidity to catastrophic events such as fire and floods.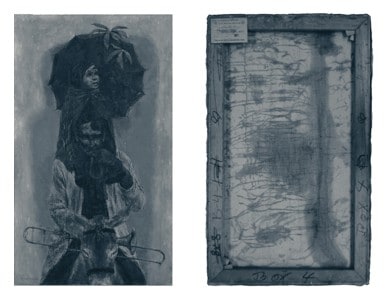 Joseph Hirsch's painting Journey was compromised by water damage from a flood in downtown Kansas City in 1977. Moisture caused the canvas to shrink and the paint to buckle and separate in response. A complex course of treatment was required to flatten the cracked paint, remove darkened varnish, and correct past paint touch-ups. The artist's frame, long lost, was also recreated with the aid of vintage photographs so we can again experience Hirsch's painting in its original context.
Other prizewinning works from Hallmark's five art competitions have also suffered the effects of age and are the focus of continuing conservation treatments. These efforts are reversing damage and arresting further deterioration, ensuring their well being for years to come.