Crown Center is an 85-acre office, retail, and residential complex, just south of downtown Kansas City, that welcomes more than five million visitors each year. It is home to Hallmark Cards Inc., one of the world's top employers for creative jobs. The campus is punctuated with works of art by renowned artists like Alexander Calder, Sol LeWitt, and Louise Nevelson. Public art enriches the city by providing meaningful and often unexpected interventions into shared space. As just one part of Hallmark's legacy of commitment to the betterment of Kansas City, these important works live in symbiotic interplay with the urban landscape.
Self-Guided Walking Tour
Time: about an hour
Distance: approximately 1.7 miles
Difficulty: some moderate hills
Please be aware of your surroundings and obey all traffic laws.
To begin the tour, turn left outside the front door of the Hallmark Visitors Center, and left again at the stairway leading down to Grand. Turn left on Grand and head south.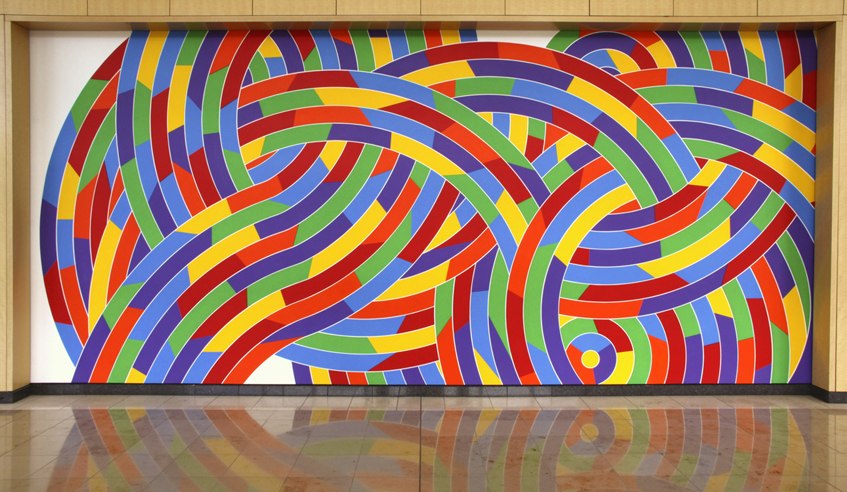 Sol LeWitt, Wall Drawing #1118, Whirls, 2004
2555 Grand Boulevard – Shook, Hardy & Bacon Building Lobby
As you head south on Grand, you'll see the circle drive on your left, leading to Shook Hardy & Bacon. LeWitt's architecturally scaled works, which he called "wall drawings," were nearly always executed without his direct participation. A prime example is Wall Drawing #1118, Whirls, installed in the lobby of 2555 Grand Boulevard (visible from the street, but the lobby is accessible during business hours). Hallmark commissioned LeWitt to create this vivid and dynamic mural in 2004, which was painted by local artists under the direction of LeWitt's studio.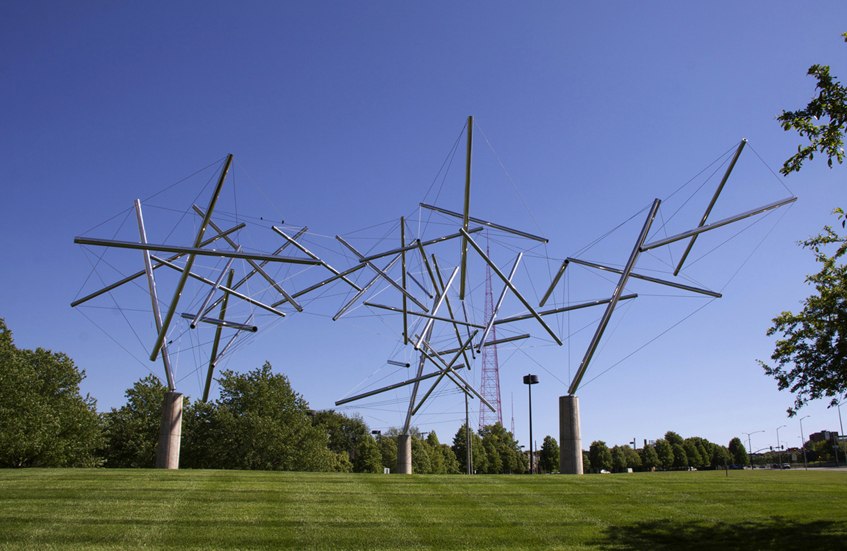 Kenneth Snelson, Triple Crown, 1991
2600 Grand Boulevard Lawn
Continuing south on Grand Boulevard, cross at 27th Street, where Triple Crown is located on a grassy lawn. This sculpture by Kenneth Snelson was commissioned by Hallmark in 1989. Comprised of highly-polished cylinders held aloft by tension, Triple Crown references the iconic crown associated with Hallmark Cards, with a nod to the highest achievement in thoroughbred horse racing. Interested in quantum physics, atomic theory, and the aesthetics of engineering, Snelson's work represents a gentle dialogue between science and art. The form of this work suggests the basic principles of structure that operate on all levels: from the atom to our largest buildings and bridges.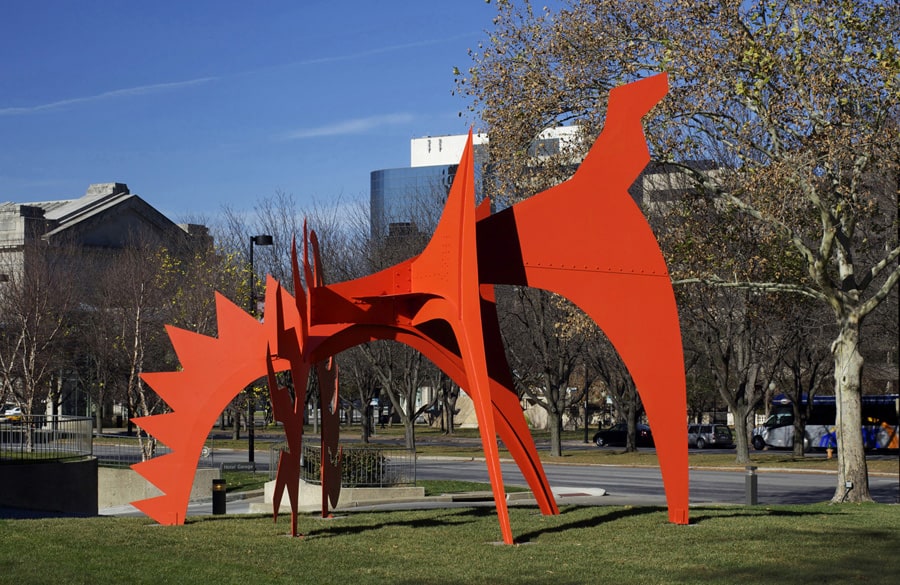 Alexander Calder, Shiva, 1965
SW Corner of Pershing Road & Grand Boulevard – The Westin Hotel Lawn
Head back north on Grand Boulevard. Alexander Calder's Shiva is located just past the main entrance to the mall.
Acquired by Hallmark in 1974, Shiva is one of Calder's best-known "stabiles" – stationary, non-kinetic sculptures. Calder's sculptures are characterized by a dynamic nature that often suggests real or mythical creatures. Although rather abstract in shape, from different angles Shiva suggests hybrid animal forms. Calder did not usually explain his work in any detail, preferring to leave his art open to individual interpretation. However, the title likely refers to the Hindu deity Shiva, who is sometimes depicted with multiple arms or encircled by flames.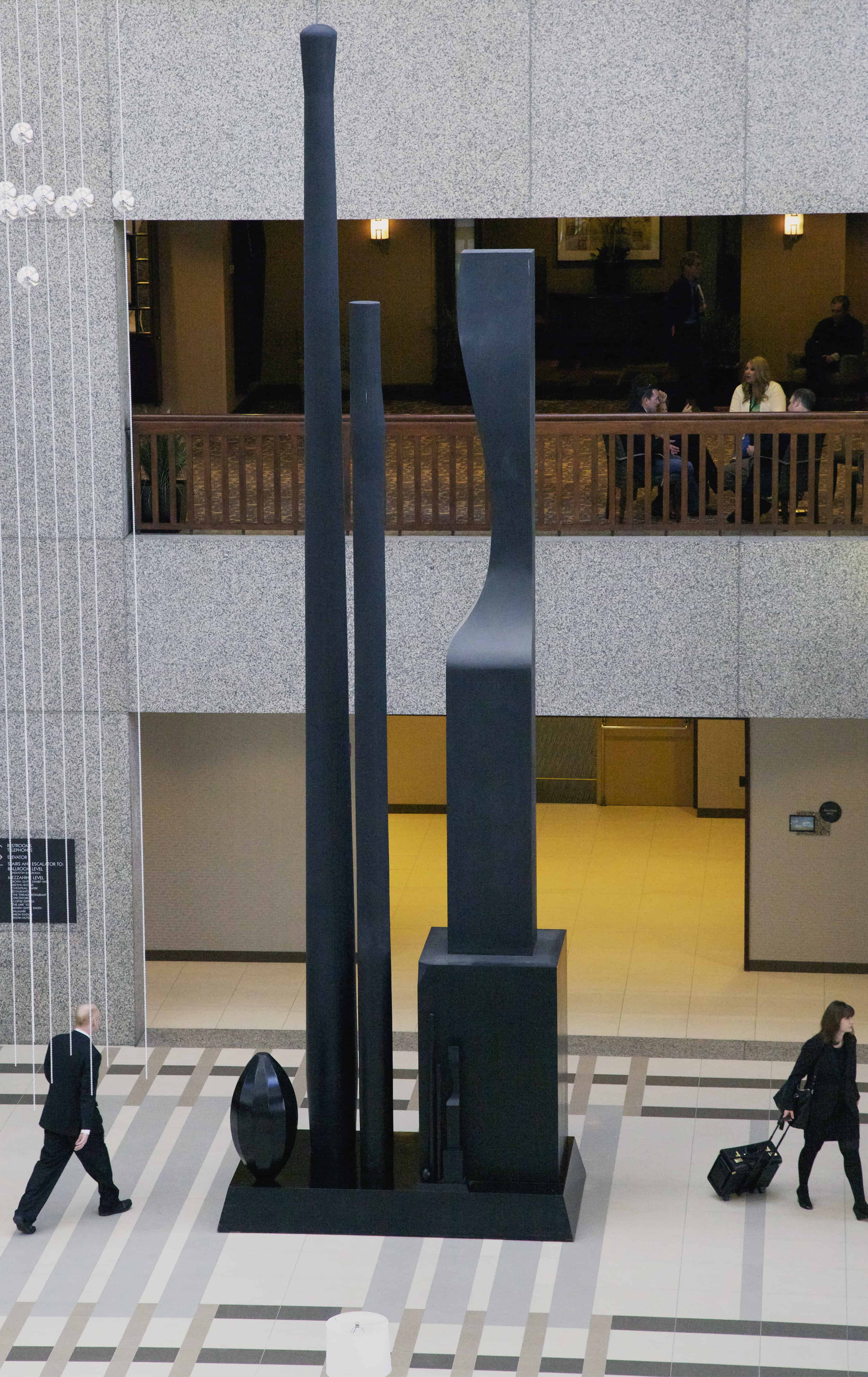 Louise Nevelson, Voyage, 1975
2435 McGee Street – Sheraton Hotel Lobby
Cross Grand Boulevard, and continue east along Pershing Road. At McGee Street, turn left and walk north. The Sheraton Hotel will be on your right. Inside the lobby, Louise Nevelson's monumental Voyage is located across from the hotel's escalators. Five elements made of Cor-ten steel are grounded to a trapezoidal base and painted in the artist's signature black. Voyage gracefully rises thirty feet and alludes to the masts of a boat or the towering smokestacks of a steamship. Born in Kiev, Russia in 1899, at the age of six Nevelson emigrated to the United States. This piece was installed to coincide with the opening of the then Hyatt Regency Hotel, as well as the artist's 80th birthday.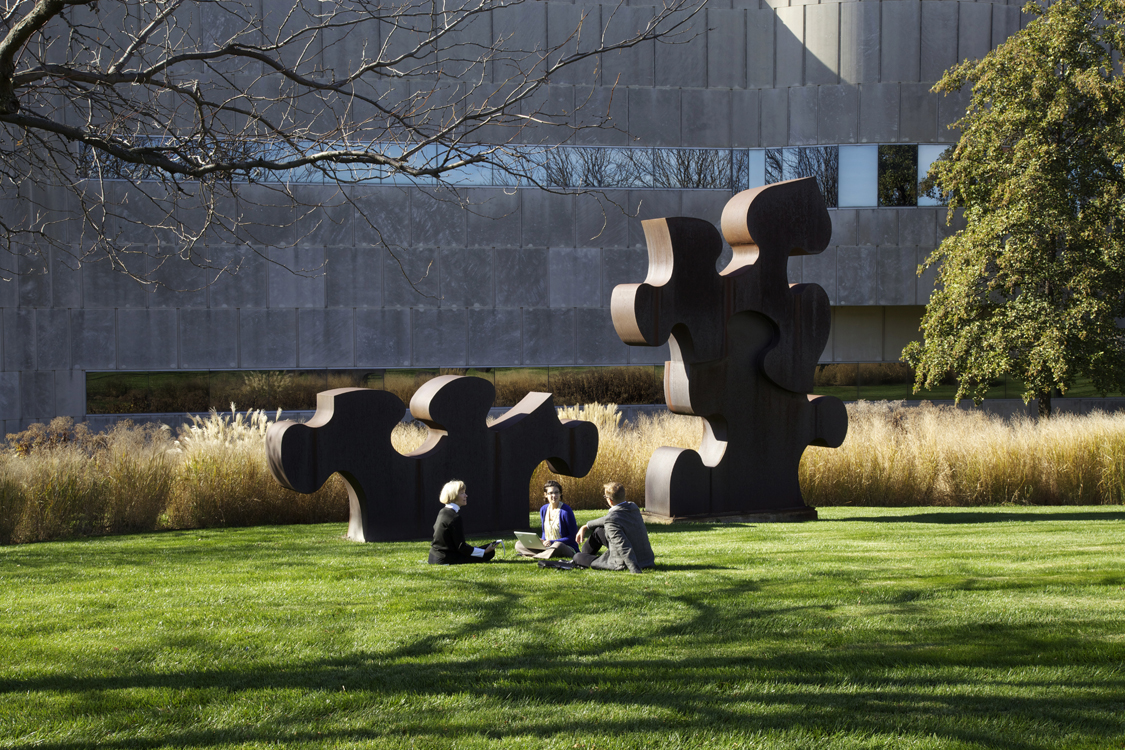 Gordon MacKenzie, Bringing the Pieces Together, 1986
SW Corner of 27th Street & Gillham Road – Hallmark Cards Lawn
Exiting the hotel, turn left and head south on McGee Street. Cross at Pershing Road, and turn left. Walking up the hill, continue on Pershing Road as it merges with Gillham Road. At the corner of 27th Street and Gillham Road, you'll find Gordon MacKenzie's Bringing the Pieces Together. A Hallmark employee for thirty years, MacKenzie was commissioned to create a work of art that communicated the creative synergy taking place inside the Rice Innovation Center. MacKenzie's massive puzzle pieces playfully illustrate the experimental nature of maintaining creative practices in corporate environments.